Plunger Coffee Filters - Large - SPECIAL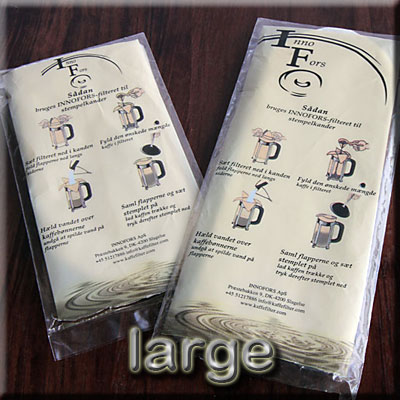 Direct from Denmark the InnoFors coffee filters (Kaffee Filters) will revolutionise plunger coffee.

Sometimes you wonder why it took so long for such a simple solution and improvement to French Press Plunger Coffee.

Better Coffee Extraction
Full Flavour Profiles
Maximum Body
Best Mouthfeel
Cleaner Coffee
Lower Water Wastage
Easy Cleanup
Biodegradable
Compostable

The filters are made of oxygen-bleached paper. This paper is environmentally neutral, particularly when compared to the traditional chlorine-bleached products. The filter paper is also made of bio-soluble materials that have been chosen, because we want to avoid any negative impact on the environment.

Small size suits up to 300ml plungers, Large size suits up to 1 litre.
Each pack contains 25 filters.

Wholesale pricing $5 per pack.
If you would like to order this item, you will need to register or log in.
Back to BeanBay - Browse other items in Coffee Roasters - Coffee Brewers