Aeropress Coffee Maker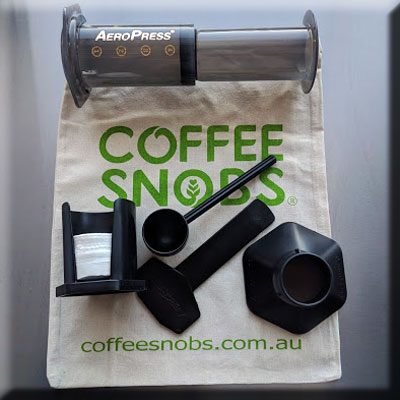 Aeropress Coffee Maker
(latest model, don't get caught buying old stock)

When I travel this is the coffee maker that goes with me the most. It's very airport friendly, light weight, tough and all you need is some good ground coffee and a kettle (which nearly every hotel in the world has). Far better than drinking hotel instant coffee. Makes a great gift too!

Comes complete with 350 paper filters, coffee scoop, funnel and stirrer although typically I'll only take the aeropress and a stainless filter with me. (Stainless reusable / washable filters are also available in BeanBay as are spare paper filters if you prefer)

The company blurb originally called it an espresso maker, it certainly won't make espresso but it makes a great plunger style coffee with more body and less "bits" in the bottom of the cup.

They say...

SMOOTHEST
Using the ideal water temperature
and gentle air pressure brewing yields
rich flavor with lower acidity and
without bitterness.

RICHEST
Total immersion brewing results in uniform
extraction of the ultimate in full coffee
flavor. Other coffee makers drip hot water
on bed of grounds, over extracting at the
center and under extracting at the edge.

PUREST
Micro filtered for grit free coffee – unlike
other press-type coffee makers.

FASTEST
One minute from start to enjoy. The actual
press time takes only 20 seconds.
If you would like to order this item, you will need to register or log in.
Back to BeanBay - Browse other items in Coffee Roasters - Coffee Brewers