CoffeeSnobs Stainless Steel Coffee Destoner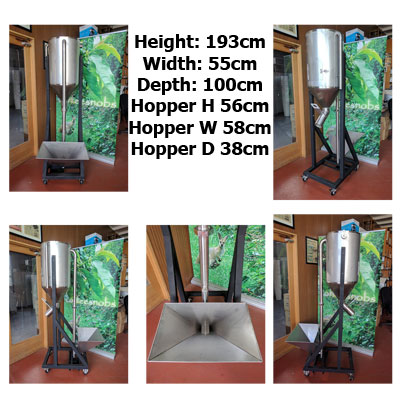 CoffeeSnobs Stainless Steel Coffee Destoner

This is the destoner that we use every roast day at the Snobbery.

For safety, all the bean path of this destoner is stainless steel, the frame is black painted mild steel to help keep the overall cost down.

This new design uses your existing vacuum cleaner to power it which saves you a large investment in an industrial motor and when you are not destoning you can clean with it! Any vacuum will work and the destoner has adjustment to suit different power levels so you can can use your existing cleaner or buy a cheapy to suit.

Features:
Front opening door for easy cleaning access.
Castors with brakes on the front wheels provide great manoeuvrability.
Large 8-10kg feed hopper and a 20-25kg storage hopper.
Can dribble feed for larger volumes.
Easy adjustment to fine tune accuracy.
Best bang for buck on the market.

Please Note:
1. Only a freight company can freight this around the country on a pallet.
2. It says free freight but it means free if you pick it up from North Geelong.
3. Actual destoner weight is about 50kg, cubic weight for the freight calculation on a pallet is about 300kg.
3. Pricing includes GST (which you can obviously claim back on your BAS making it $3411).

Use your own freight company to pick it up or get a freight quote from "couriersandfreight.com.au". Approx pallet size is 120cm x 120cm x 60cm.
Unit weight:
300.00kg
Price:
$3750.00 each
Availability:

SOLD OUT

FairCrack donation:
$20.00 per item
This item has free shipping!
If you would like to order this item, you will need to register or log in.