Hawaii Kona Waiono Fancy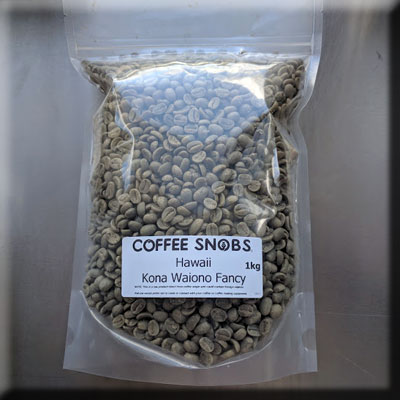 This coffee hails from the most famous of the Hawaiian coffee growing islands, Kona.
It was grown and processed in Waiono Meadows and arrived with official government certification that this meets the fancy grading and is not a forgery (which is a real thing with Kona coffees). It's a fully washed coffee, very clean almost polished appearance and is easy to roast even with the added pressure of the expense. I took it to a careful CS8 and found very smooth, clean and balanced and quite similar to a Jamaican coffee in style.
Crazy expensive but is one of the very best coffees produced on the Kona Island.
Packed in 1kg lots so you don't need a 2nd mortgage.
| | |
| --- | --- |
| Unit weight: | 1.00kg |
| Price per kg: | $95.00 |
| Price: | $95.00 / 1.00kg |
| Availability: | SOLD OUT |
| FairCrack donation: | $0.50 per kilogram |
If you would like to order this item, you will need to register or log in.