Surprise Me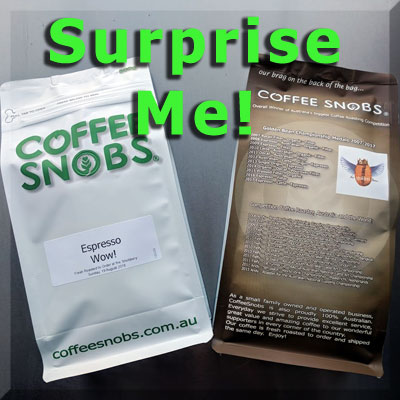 Surprise Me is 2 x 500g fresh roasted coffee.

Contents are random and cannot be selected as they are based on what will fit into the batches on roast day but will be two different coffees fresh roasted within the previous week or the next scheduled roast day (never stale!).

This replaces the old roasted sample packs, the gotcha with those was that by the time you got the grind settings perfect you would be nearly out of coffee.

These 500g bags have solid square base and stand-up better, they also have a valve and a zipper to reseal between use. This is the cheapest way to try a kilo of CoffeeSnobs coffee.
If you would like to order this item, you will need to register or log in.
Back to BeanBay - Browse other items in Roasted Coffee - fresh roasted to order