Home Coffee Roaster Competition 2017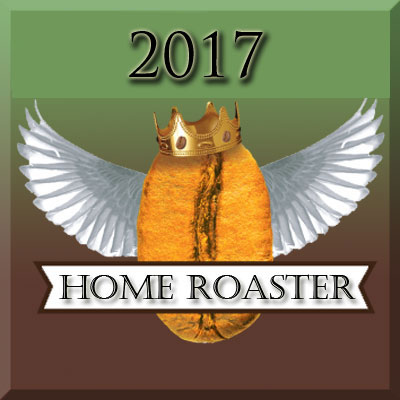 Purchase this as an entry into the 2017 Home Roaster Competition.

After the huge success last year, again the Home Roaster category will use a "control bean". All entries will receive the same secret green bean, coffee bags and all postage paid for entry into 3 categories (Espresso, Latte, Filter).

you will receive:

1: 2.5kg of green beans
2: 3 x entry bags with code numbers (these must be used)
3: Freight to you.
4: Express Post satchel to return your roasted coffee to us on the 9th Nov
5: Freight to the Port Mac. competition.

You will roast and return in the express post envelope:
300g - Espresso
300g - Cafe Latte
300g - Filter

The 2.5kg of green beans will produce about 2kg of coffee so you are sending in less than half as your entry.

The beans will be judged anonymously by coffee industry professionals at the Golden Bean Roasting competition in Port Macquarie from the 21st to the 25th of November 2017 and the winners of each category will be announced on the night of the 25th.

Entries need to be posted back on the 9th or 10th of November so they arrive here on the 13th and 14th to ensure they make it into the judging. You can enter more than once if you want. Any substitution beans will void all your entries. Late returns will not be judged. Zipper bags should be sticky-taped at the top if you can't heat seal the edge with an iron (use brown paper between the 100 degree iron and the bag). We will announce the secret beans on the 13th when entries are closed.

As a Home Coffee Roaster competition, these must be roasted on a ready made roaster or home made contraption worth less than $2000. If you are roasting on something grander, please enter the commercial roasting competition or you can let us know prior and your results will be excluded from the overall and your coffee will still be blind judged. By entering you agree to sell your roaster to a fellow Coffee Snob for $2000 or less.

See the news section of CoffeeSnobs for rule updates, information and answers to questions.

Have fun and good luck!

#### Today is the 13th so entries are closed, good luck to all that entered ####

The secret control bean was: Ethiopia Biftu Gesha Sundried
...and as promised, it's available in BeanBay now.
Unit weight:
2.99kg
Price:
$80.00 each
Availability:

SOLD OUT

FairCrack donation:
$1.25 per item
This item has free shipping!
If you would like to order this item, you will need to register or log in.