Aeropress Superfine Stainless Mesh FREE FREIGHT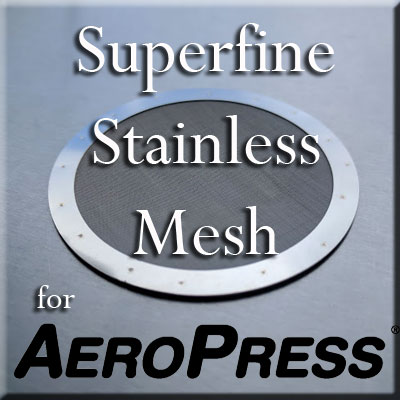 Superfine Stainless Mesh is the finest filtering option for a permanent filter that we know of for an Aeropress.

The superfine stainless mesh is spot welded to a stainless ring so that it will work as a replacement for paper filters. No need to use paper anymore, just wash after use and put this back into the Aeropress for next time.

This is very strong but if your coffee is crazy fine and you apply a pile of pressure it could be possible to separate the two components. With normal usage and a bit of care these will last for years.
Unit weight:
50g
Price:
$12.00 each
Availability:
Available
FairCrack donation:
$0.50 per item
This item has free shipping!
If you would like to order this item, you will need to register or log in.
Back to BeanBay - Browse other items in Coffee Roasters - Coffee Brewers