Panama Geisha - Don Pepe Washed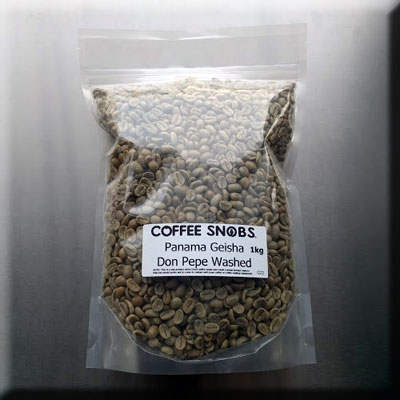 Panama Geisha from Finca Don Pepe is one of the best known Geisha coffees in the world, and an award winner in competitions all over the globe. Now in its 5th generation of farmers, the Don Pepe Estate has been growing coffee for nearly 120 years and this is the bean that really put them on the map.

This is a fully washed process (unlike the natural process offering also available here). The same estate, same varietal just a different processing technique results in a very different coffee in the cup.

I have been drinking a lighter roast (CS8) of this in the Brazen for the last couple of weeks and it's sweet, juicy and full of peaches. In fact its so peachy, the first impression is more like drinking peach nectar with a coffee aftertaste.

Stunning coffee and half the price of it's natural processed sister (due to lower labour costs and higher production volume). Enjoy!
| | |
| --- | --- |
| Unit weight: | 1.00kg |
| Price per kg: | $74.50 |
| Price: | $74.50 / 1.00kg |
| Availability: | Available |
| FairCrack donation: | $0.50 per kilogram |
If you would like to order this item, you will need to register or log in.