HeatSnob Temperature Data Logger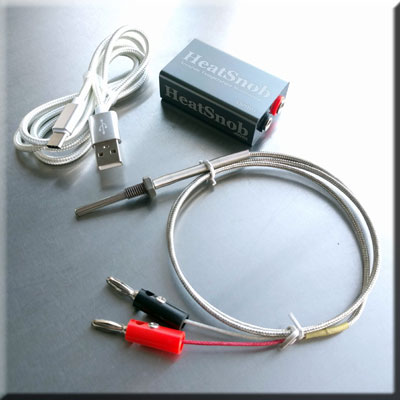 HeatSnob - accurate temperature monitoring.

HeatSnob is far more accurate in the higher temperature ranges than a multimeter, this is smaller, neater and doesn't need batteries.

Designed in-house from the ground-up.

Comes with everything you need: a quality USB-C to USB lead, 25mm Stainless Steel thermocouple and of course the new alloy cased HeatSnob.

(if you want us to swap the 25mm probe for a 100mm probe please use the forum [contact us] to let us know your invoice number when you order)

RoastMonitor software will run up to 9 of these at once if you have the requirement to capture and graph that many temperatures.

More details including the link for the software:
http://tinyurl.com/heatsnob

FREE SHIPPING

Note:
This new model uses the USB Type C plug (included) which works either way up.
Unit weight:
450g
Price:
$80.00 each
Availability:
Available
FairCrack donation:
$1.00 per item
This item has free shipping!
If you would like to order this item, you will need to register or log in.
Back to BeanBay - Browse other items in Coffee Roasters - Coffee Brewers