Behmor 1600 Plus - UPGRADE GRAMS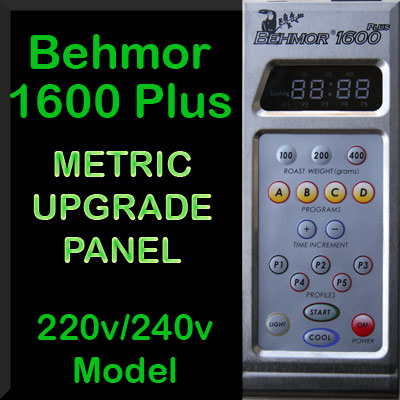 This is the UPGRADE front panel for the 220v/240v Behmor 1600 home coffee roaster which will give your old roaster the latest "1600 Plus" features.

Manual element control 0%, 25%, 50%, 75%, 100%
2 selectable drum speeds.
Side wall temperature
Exhaust Temperature
"Rosetta Stone" time reset at first crack.

Installation is fairly easy and will take 15 minutes odd.
Tools required: Phillips-head screwdrivers (short and long).
Remove the two side covers, Remove the top.
Unplug the front panel from the side circuit board.
Remove the old front panel, Replace with the new.
Put it all back together again.

Free Freight anywhere in Australia.

THIS IS THE 220v / 240V GRAM VERSION
Note: This upgrade won't work on USA voltage roasters.

## OUT OF STOCK ##

Best guess, August 2017 before the factory builds more.
When available they will show here.
Unit weight:
500g
Price:
$60.00 each
Availability:

SOLD OUT

FairCrack donation:
$1.00 per item
This item has free shipping!
If you would like to order this item, you will need to register or log in.